Accredited Import Export Training Courses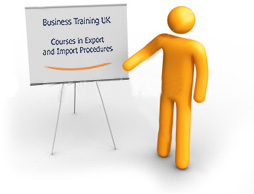 Whether you are a new to export import, seeking training in a new aspect of international trade strategy, or wish to update your skills with the latest procedures and techniques there is a Business Training import export course suitable for you.

As The UK economy increasingly seeks to refocus on export as a way out of our current economic ills, more companies and business support organisations are investing in international trade training to promote efficiency in order to increase market share and boost profits
.
Our export import training courses are
accredited
by The Joint Export Training Standards (JETS) and are graded as entry, intermediate or advanced level to enable delegates to select the most suitable training. Continuous Professional Development points can be awarded for most courses
Our export import training courses are offered as open courses (see course schedule page) or
in - company, where the content may be tailored to requirements. Please see the
in - company
page for a list of recent clients.

Please click on the topic below to see a full description and content of the training course
Entry Level Import Export Training courses:-
Intermediate Level Import Export Courses:-

Advanced Level Export Course :-


Please contact us if you are unsure which import export training is most suitable for you or your company.